Biography - Fil Campbell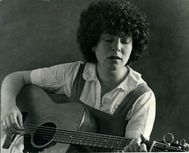 "Fil Campbell … has been likened to a lot of female performers, but can be compared to none. She has a unique voice and a knack of making every song her own." The Word (Ireland)
Fil (pronounced Phil) grew up in Belleek, in the North of Ireland, immersed in the rich folk and traditional music culture of the area. She has been a full-time performer on the folk circuit since the late 1980s, touring extensively in Europe, Ireland and the UK. Since the early 90s she has been accompanied by her husband, percussionist and singer Tom McFarland.
She recorded her first CD, The Light Beyond the Woods, a collection of favourite songs  played by the cream of Irish musicians, in 1992. Her gift for songwriting began to blossom four years later with her next CD, Dreaming in 1996. The title song, a poignant commentary on life in Northern Ireland during the turbulent 90s, won the prestigious Letterkenny Song Festival. Beneath the Calm – a collection of her own songs containing the hauntingly beautiful I Still Think of You, written in memory of her father, followed two years later.
She and Tom were part of the short-lived but much missed Jaimidi, renowned for their sumptuous vocal harmonies, whose show about the summer solstice of 2001 was recorded as the CD Turn of the Day. Fil's decade long exploration of the little-known heritage of the women singers who had recorded the popular Irish folk songs of the 30s, 40s and 50s, resulted in three widely acclaimed CDs – Farewell To Cold Winter, A Place of My Own and the star-studded Songbirds, which would take the form of an RTE TV show, touring show, CD and DVD.
2015 saw the release of the Emigrant's Woman's Tale, co-written with Hungarian poet Csilla Toldy, and Fil and Tom's critically acclaimed Back There, their first in which Tom shared lead vocals, which was played on radio stations around the world. Together, their latest CD, is a collection of original songs around the theme of peace and reconciliation, as well as stories from the road told in song.  
 
Our first visit to this lovely club in the hills south of Glasgow.